How to choose this product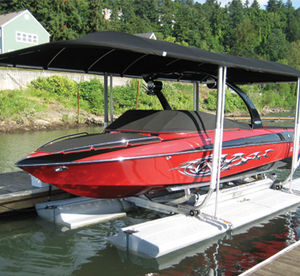 A boat canopy is a roof-like structure sheltering a vessel from sun and rain.
Applications
Such canopies can be mounted on a variety of supporting structures including docks, floating pontoons and boat lifts. They extend vessel life by protecting it from dirt, rain, hail, sunlight and similar phenomena. They are particularly advisable in areas characterized by harsh weather or strong sunlight.
Technologies
Canopies often consist of a flexible or rigid roof mounted on a metal structure. They can be installed on a dock or floating pontoon, with or without a boat lift. Some are large enough to cover several boats. There are also floating shelters, veritable little boat houses.