How to choose this product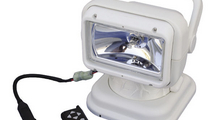 A boat searchlight is a powerful, directional spotlight used to sweep the surrounding sea at night. Those offered on NauticExpo are intended for leisure craft rather than merchant vessels.
Applications
Their main function is safety at sea, for example searching for a person gone overboard or a vessel in distress. They also can be extremely useful at night for finding one's way in a crowded mooring, docking in a poorly lit port or identifying floating objects.
Technologies
Most such lights use krypton or halogen bulbs. Some less powerful models use LEDs (light-emitting diodes). Certain versions are portable, while others can be controlled at a distance, sometimes via wireless remote control. They must be watertight (at least IPX6) and able to withstand impacts, UV rays and salt air. Thus, they are often made of aluminum or stainless steel, occasionally of plastic.
How to choose
Remotely-controlled models, wireless or not, offers evident advantages. LEDs are very energy-efficient, but less powerful than halogen bulbs. Krypton bulbs are even more powerful. Verify that the light's voltage corresponds to the on-board electrical system, be it 12, 24 or 32 volts.