How to choose this product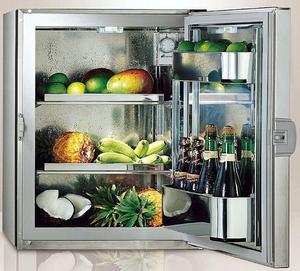 A boat refrigerator is an appliance designed to keep food between 2° C and 6. Those offered on NauticExpo, are intended for use aboard leisure craft.
Applications
Such devices are optional amenities that become extremely useful in hot climates. Unsuitable for small craft due to their bulk and energy consumption, they are perfectly suitable for offshore and coastal cruising boats.
Technologies
A refrigerator consists of storage space and a refrigeration system. The former varies in size, and can open from the top or the front. Some feature a freezer compartment.

There are several chilling technologies, the most common use either a compressor and a refrigerant gas such as Freon®, or eutectic plates. The latter is quite energy-efficient. Compressor refrigerators use electrical power (12/24/110/220 V), gas, or multiple power sources.
How to choose
Choice will depend primarily on bulk, followed by the opening mode and whether the unit will be built-in or free-standing. Capacity in liters should be selected as a function of the number of individuals aboard and the length of the cruise.

Design and power requirements should be chosen in light of existing equipment. A traditional or an electric cooler is often best aboard small vessels with limited or no cabin space.