How to choose this product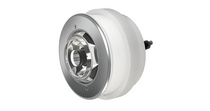 A recessed boat light is a directional lamp set into a bulkhead or other structure, only the attractive illuminating face remaining visible. Models offered on NauticExpo are for use on recreational/pleasure craft.
Applications
These fixtures are suitable for berth reading lamps, general ceiling lighting, illuminating passageways, cockpits or in other locations.
Technologies
Such spots can be installed below or on deck. The latter should be carry a waterproof rating of IPX6 or 7. Designs and materials vary greatly, including brushed aluminum, stainless steel, brass and plastic. LED (light-emitting diode), halogen and incandescent bulbs are common, each with its particular characteristics.
How to choose
Choice will depend on design, interior or exterior installation and bulb type. Sufficient recess depth at the mounting location is essential. Orientable spots are particularly useful when used for reading.

LEDs are a good option for lights that will remain on for long periods because of their low consumption and long life. They also offer light color options, including the ability to change color. Halogens provide a bright, agreeable light, but use a lot of electricity. Incandescent bulbs offer a warm light, but are rather fragile for use at sea.
Advantages
- Occupy little cabin/deck space
- Many design options
Disadvantages
- Bulkhead must be pierced
- Requires sufficient mounting depth