How to choose this product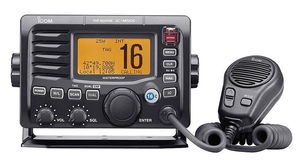 A boat radio provides vessel-to-vessel or vessel-to-shore communications. On NauticExpo, these devices are intended for use on leisure craft.
Applications
Such radios are found on all types of vessel. They constitute an important piece of safety equipment, allowing boats to benefit from worldwide security procedures established by the GMDSS. However, while every vessel should carry a VHF radio, only blue-water cruisers require HF capability.
Technologies
Radios are designed to operate in a particular frequency range.
- VHF (very high frequency) is the simplest to use and the most common aboard vessels. Access to these frequencies is free and available to all. The transceiver may be fixed or portable. DSC capability, a one-touch distress transmission system, offers additional security. The range of readily available fixed units is only about 20 nautical miles.

- HF (high frequency), or SSB (single sideband) radios are used by vessels offshore for long-distance communications. These frequencies may be used by licensed amateur radio operators (hams). While both receivers and transmitters are available to the general public, an amateur license authorizing global operation or a professional radiotelephone license is required by some countries. These units also can receive weather faxes and NAVTEX bulletins anywhere in the world.

- Common AM/FM receivers are used to listen to broadcasts from licensed stations rather than for communications from a vessel. Amateur radio transmission is generally forbidden on these bands.