The Online Boating and Maritime Exhibition

Available colors: Gray (90191) and black (90190) Width: 150mm Height: 100mm Length: 275mm Hose diameter: 25mm Info: 0,5L/pull

The best pump for dealing with any pollution incident and many other applications including tank cleaning, water/waste treatment, construction sites, fire services.
See the other products
Darcy Spillcare Manufacture

Hydraulic Pump Motor Assembly - No Wiring Electric motor, valve body, and reservoir/cap. 3 wires out of pump. Must use your previous backing plate, solenoids, wiring harness, etc.

... cover protects the pump from sunlight and wear and tear. Drainman is handy to carry, easy to install and lock into place. It can be fitted to mooring lines fore, aft or on the side of your boat. You ...

boat pump
PC45(12V-405W/24V-550W)
Flow rate: 4.5 l/min
... controls, relief valves and cylinder lock valves as standard. Developed specifically for marine autopilot applications in the commercial and larger pleasure boat market the PC45 can be used with single ...
See the other products
Hydraulic Projects

steering system pump
LM HP 16
... the helm pump is to push oil in the hydraulic circuit when the steering wheel mounted on the pump shaft is rotated. The helm pump is usually fitted ...
See the other products
MULTIFLEX

boat pump
POMPA PM 15 CON SUPPORTO
GIR./IMPELLER 2048 KIT 4456 SIMILE A JOH F35B-8-10-35038-1
See the other products
Ancor

boat pump
551231 / 551331
Flow rate: 2,600, 1,800 l/h
High capacity pumps, yet maintained low power consumption. High quality water cooled motor. Entirely immersible. Stainless steel motor shaft. Info on package. The wire must not be mounted so the water can reach the coupling.
See the other products
Roca Industry

Hydraulic Oilpump P10 Hydraulic oil pump, complete with mounting plate, build in flow control and safty valve. Adjustable oil flow. Drivern by V-belt from main engine. The safty valve and flow control ensure a constant ...

Description YCH Automatic Bilge Pump will start to operate automatically while detecting the water level comes up! While the water level reaches the high set-point, the pump will activate automatically ...
See the other products
YCH Ind. Corp.

Ideal for pumping water out of small areas such as small boats, jet boats or PWC?s. Constructed of white ABS plastic with an easy to clean twist off strainer. 3/4" outlet. 3" W x 4" H.

Stainless steel low-speed rotary pumps with flexible impeller; particularly suitable for transfer of delicate, fragile and viscous fluids, also with solid parts in suspension. Our pumps are widely used ...
See the other products
LIVERANI

Flow rate: 6 l/min
Our battery powered pump is a useful tool to have available for transferring fluid and emptying tanks. The long reach pickup is great for hard to reach bilge and tank areas. Requires 2 x "D" size batteries for operation. ...
See the other products
Tru Design Plastics Ltd.

Flow rate: 120 m³/h
Technical specifications PERFORMANCE MATERIALS Qmax: 120m3/h Carbon Steel, Cast iron, Marine bronze AISI316 Hmax: up to 20 bar Duplex T: 120°C Cast iron EN-GJL250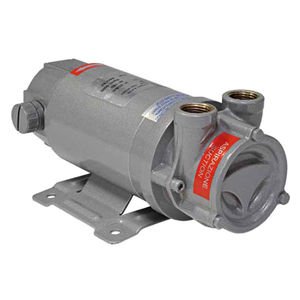 Flow rate: 2 l/min - 48 l/min
This compact self-priming el/pump with a capacity of 8 m vertically, it is ideal where limited space is available. Being self-priming it is mandatory to fill the el/pump before its first use and when ...
See the other products
TF Marine

See the other products
DJ PUMP

Reckmann offers systems for operating rigg hydraulic cylinders that are customised for the project requirements. The pumps that were developed especially for this use are extremely compact and powerful at the same time. We ...
See the other products
Reckmann

4 pump range, 0 to 250m3 capacity, Centrifugal or screw Aluminium body, Hydraulic, Submersible, Forward and reverse rotation Able to cope with debris up to 63mm in size

For commercial or leisure marine bilge pumping applications, the Sludge Sucker Basic polypropylene hand pump series provides a compact and easy way to get your job done. This pump is ...
See the other products
Wastecorp Pumps

The automation of all the main controls of a sailboat is the key to obtain an easy and gratifying sailing this is how possible with the integrated hydraulic systems developed by CARITEC which allow even a single person to handle a sailboat ...
See the other products
Cariboni

Flow rate: 250 us gal/h - 550 us gal/h
Marine Application Sea Water Pumps **REPLACEMENT FOR 1P808 TEEL PUMP** Mermaid's standard marine pump is designed to operate in either salt water ...

Flow rate: 30 l/min - 850 l/min
... suction heights when the pump is not flooded, together with the possibility to fine-tune the speed without a loss in pressure, flow rate and head, and the possibility of loadless operation without causing any damage, ...
See the other products
Alphadynamic Pumps

Flow rate: 350 us gal/h - 3,700 us gal/h
... complete line of Submersible Bilge Pumps to fit most marine applications. We offer pumps with a variety of flows and hose outlet sizes, in 12v and 24v models. We use robust motors, stainless ...
See the other products
Seaflo Marine & RV North America, LLC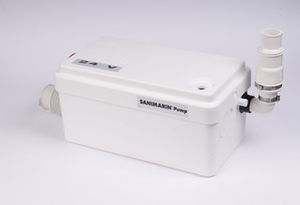 Grey Water pump. Essential to install a shower or a sink, Sanimarin Pump recovers grey water on board your boat and provides an ideal solution to reduce the number of hull valves. A ...

boat pump
165AL-30-1.5KIT / 165AL-30-2-KIT
Edson 30GPM Portable Pump Kits are complete pumping systems that include the #117AL Pump mounted on a Carrying Board with 32" Handle. Quick Clamp Hose Fittings and a single 20' length of hose supplied ...
See the other products
Edson