How to choose this product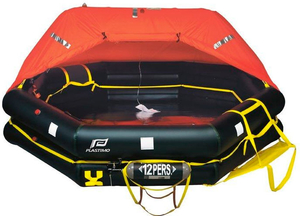 A boat liferaft is a small, round or square self-inflating boat used when it is necessary to abandon the main vessel. Models offered on NauticExpo are designed to be carried by leisure craft.
Applications
While regulations sometimes require offshore sailors to carry a liferaft, it is always recommended.
Technologies
These craft are made of very tough plastic materials with an insulated floor and a tent-like roof for protection from sun, rain and spray. Each is designed for a specific number of people. Offshore rafts are stocked with food, water and survival gear for several days, while coastal models contain the strict minimum. They are stowed in a bag or rigid case aboard the main vessel and must undergo regular testing by a professional.
How to choose
Choice will depend on type of sailing, offshore or coastal. The raft should be large enough for the maximum legal number of people permitted on the main vessel. Easy access and rapid launch capability are essential. Rafts stowed in a rigid case need be checked less frequently than those in a bag. Applicable regulations should be consulted in the country of vessel registration and wherever the boat will sail.