How to choose this product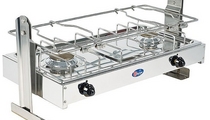 A boat stove is a cooking appliance, usually one producing a flame. The models featured on NauticEXpo are intended for use on leisure craft rather than on merchant ships.
Applications
These devices are ideal for cruising boats of all kinds. Aboard monohull sailboats, they must be mounted on gimbals to remain horizontal when the vessel heels.
Technologies
The stove may have one or more burners using alcohol, gas, fuel oil or diesel. Some models can run on alcohol and electricity or another fuel combination to avoid having to rely on a single energy source. Most are made of stainless steel, and are designed to be easy to clean.

While almost all models feature a fire-safety system, great care should be taken in their use. Some versions incorporate an oven. Adjustable fiddles, or bars keep the pots in place even in rough seas.
How to choose
Consider the number of burners in light of your cooking habits. There should be enough space between them for simultaneous use. A gimbaled model is essential on a monohull sailboat to keep the cooking surface horizontal at all times. Choice of the fuel will depend on availability in the areas where you sail. Some countries impose strict installation regulations depending on stove and fuel type.
Advantages
- Better heat control electric stoves
- Does not require electricity
- Low fuel consumption
Disadvantages
- Fire risks
- Harder to clean than electric cooktops