How to choose this product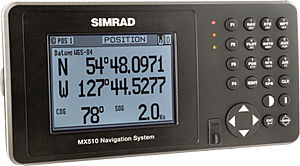 A marine GPS (global positioning system) is an electronic navigational device which uses satellite signals to calculate its precise geographic position in terms of latitude and longitude.
Applications
Simpler, faster and more precise than a sextant, the GPS has become nearly indispensable for offshore navigation. It is found aboard nearly every vessel of every type.
Technologies
Most of these instruments have a screen showing a variety of data, including position, speed over ground and true course. If the instrument also functions as a chart plotter, the boat's position is visible at a glance from its graphic representation.

The GPS can register waypoints and indicate deviation from a preset course. Combination units may have a screen showing radar, depth-finder, video-camera and other data. They can also communicate with other instruments aboard via the NMEA 183 or 2000 standard. Connected to the vessel's computer, they can furnish data to a navigation program such as OpenCPN.
How to choose
The number of channels indicates the number of satellites the GPS can use simultaneously. This determines positioning speed and accuracy. Deck-mounted units should be waterproof and have a screen readable in direct sunlight. Portable models can be used ashore, as well as aboard.
Advantages
- Easy, rapid, precise positioning
- Indicates speed and course over ground
Disadvantages
- Requires batteries or on-board power
- Dependent on proper satellite function