How to choose this product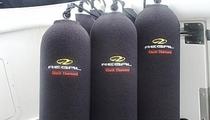 A boat fender cover is a fabric protection used to cover fenders.
Applications
These devices are used primarily to project a certain image and avoid all trace of dirt on the fenders.
Technologies
Such covers are usually made of terry cloth or nylon, and should withstand abrasion from rubbing against a dock or another vessel. There are as many configurations as there are fender models. Some manufacturers can customize the cover with the name or logo of the vessel.
How to choose
Fender size and shape are the primary factors to consider. Try to choose a color matching that of the hull and/or of other fabric elements aboard.
Advantages
- Protects against dirt and fuel stains
- Protects against abrasion
- Adds style to the vessel
Disadvantages
- Must be changed regularly