How to choose this product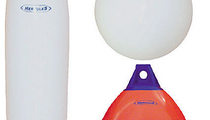 A boat fender protects the boat from damage due to impacts it might suffer during maneuvers or while moored. The wide range offered by NauticExpo includes inflatable and solid models.
Applications
These devices protect the vessel from damage during docking and departure maneuvers. They also keep the hull from rubbing against docks or other boats due to wave action.
Technologies
Fenders differ by design and material. They can be cylindrical, flat, round or another shape. Most are made from rubber, foam rubber or polyethylene. Inflatable fenders, usually cylindrical, absorb shock by compression of the air within. Solid fenders are made of soft materials such as polyethylene.
How to choose
Choice will depend on the size and displacement of the boat. Cylindrical fenders are more elastic, but cover less area than flat models.
Advantages
- Hull protection