How to choose this product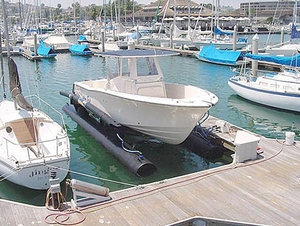 A boat lift is used to remove a vessel from the water easily and rapidly.
Applications
These devices are very useful for handling small craft whose mooring is unreliable, for example due to tidal variation of water depth. Removal also keeps the hull free of marine growth.
Technologies
Lift systems use rollers, tracks or slides, and electrical, hydraulic or pneumatic winches. Some are small floating pontoons. Certain models incorporate a shelter to protect the craft against inclement weather and/or theft. Boat lifts are designed for vessels of minimum/maximum size, maximum weight and minimum water depth at the installation point.
How to choose
Carry out a careful study of the installation area. Choice will depend on vessel size, weight, draft and type (monohull, multi-hull, sailboat, powerboat, etc.).