How to choose this product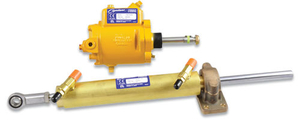 A boat hydraulic cylinder is part of a mechanical arm assembly.
Applications
These devices are found primarily in three areas:
- Power steering assemblies on powerboats
- Flap, or trim tab controls
- Automatic pilot linkages
Technologies
A hydraulic pump injects fluid into one side or the other of the cylinder, actuating a piston. The piston arm is linked via a ball joint or a fork to equipment such as a rudder stock or quadrant for automatic pilot function, or a trim tab, an outboard motor, a drive or pod unit for power steering.

As with a bicycle pump, a hydraulic cylinder only works well if the seals on both sides of the piston hold pressure. They must be checked and maintained on a regular basis.
How to choose
Choice will depend on the intended use of the cylinder and the type of hydraulic pump. The cylinder's maximum pressure rating should not be exceeded. The size of the rudder blade, the motor or the flaps will determine the amount of force required to move them.