How to choose this product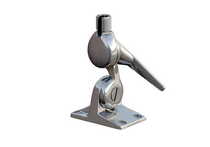 Boat antenna mounts allow to affix antennas (for radars, VHF radios, TVs, GPS systems, SSB units, etc.). Such devices are for leisure crafts.
Applications
Antennas vary greatly in size and shape. The mounts must be adapted to these parameters, as well as the antenna's location (balcony, roof, mast head, etc.).
Technologies
Boat antenna mounts can be plastic, aluminum or stainless steel. They can consist in mere vertical tubes or small masts with standing rigging.

VHF radio mounts generally consist in articulated support systems upon which the antenna is screwed on. Such mounts are equipped with a flat base that is screwed onto a roof or a roll-bar. Antenna mounts installed on balconies feature pressure jaws.
How to choose
Specify the brand, model and location.

Be sure the mount's materials are compatible with those of the craft (a stainless steel mount on an aluminum craft can create electrolysis).