How to choose this product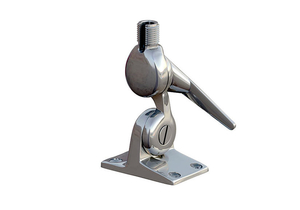 Boat antenna mounts hold radar, VHF radio, TV, GPS, SSB and other antennas and devices. Those offered on NauticExpo are intended for use on leisure vessels.
Applications
Antennas vary greatly in size and shape, each requiring a particular kind of mount. The mount also must be suitable for the antenna location, be it railing, coachroof or masthead.
Technologies
These mounts are made of plastic, aluminum or stainless steel. Radar antennas are sometimes installed on simple vertical fins or small guyed masts. VHF antennas are generally screwed to an articulated support attached to a plate bolted to the coachroof or a roll-bar. Rail mounts are held by a set of jaws or clamps that fit around the railing.
How to choose
Choice will depend on antenna make, model and location. Verify that mount materials are compatible with those of the vessel. For example, a stainless steel mount on an aluminum deck can cause electrolysis.