How to choose this product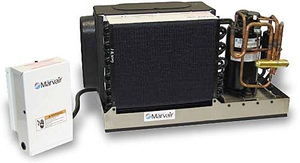 A boat air conditioner is an electric device which cools the ambient air. Models offered on NauticExpo are intended for use on leisure craft.
Applications
These devices are particularly appreciated in tropical climates or during heat waves. Reversible units, those that heat as well as cool, serve to extend the sailing season into the cooler months. They are indispensable on upscale yachts and charter vessels.
Technologies
A refrigerant undergoes cyclical phase changes, absorbing heat from the ambient air as it becomes a gas. An electric or hydraulic motor drives a pump which reconverts the gas to a liquid, allowing the cycle repeat endlessly. Fans are used to blow cool air into the vessel's interior and to vent the warm air created by re-compression.

Mobile units can be moved from boat to boat or used at home or in a recreational vehicle. Compact models have all components in a single housing, while others comprise several units. Power is measured in British Thermal Units (BTU) per hour. Kit versions are designed for user installation.
How to choose
The choice between a compact or multi-component air conditioner will depend on available installation space. Volume of air to be cooled, electrical system voltage and capacity are other factors. In certain situations a generator set may be necessary. A mobile unit can be used in more than one location.
Advantages
- Reversible system options
Disadvantages
- Bulky
- Noisy
- Heavy energy consumption
- Anti-ecological