How to choose this product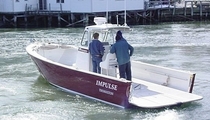 An inboard center console boat has an open deck with a steering console along the centerline. While most open-hull craft maximize space by using an outboard, the inboard engine improves both appearance and range.
Technologies
Fitting an inboard engine in an open hull is not an easy task. Placing it beneath a sundeck or in the bilge of a V-shaped hull are two possible solutions.
Advantages
- Diesel engine
- Attractive
Disadvantages
- Difficult or impossible to trailer