How to choose this product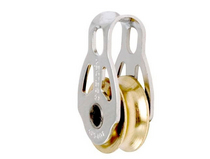 A fixed block has a ring at the top for attachment to another fitting or to a part of the vessel.
Applications
Such blocks can be used in any type of block and tackle arrangement. They can be hung from the boom via a shackle or attached to a deck plate.
Technologies
The ring can be an integral part of the block cheeks or fastened to the cheek assembly. It may be either parallel or perpendicular to the sheaves, but does not swivel. A twist shackle can be used to change the orientation of the block.
How to choose
There is a wide range of fixed block configurations and sizes. Choice will depend on specific intended use.
Advantages
- Sturdy cheek-ring assembly
- Little chance of block pulling apart
Disadvantages
- Limited block rotation