How to choose this product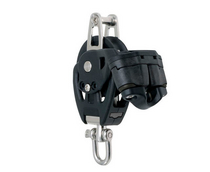 The block with a cleat may be any kind of block to which a jam or cam cleat has been attached. There are also V-cleat models.
Applications
The cleat offers the possibility of immobilizing the line and, thus, the block in a given position.
Technologies
The angle of the cleat with respect to sheave orientation and the user's position is fundamental. It is important to be able to make fast and slack the line conveniently.
How to choose
Choice will depend on line diameter and tackle configuration.
Advantages
- Allows precise, repeated adjustment