How to choose this product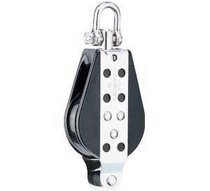 A block's becket is a thimble, a metal ring at the end opposite the block's anchoring fitting. Beckets are found on both single and multi-sheave blocks.
Applications
These blocks are used in tackle designed to multiply mechanical advantage.
Technologies
The end of the working line is secured to the becket of one of the blocks, depending on whether the total number of sheaves is odd or even. This adds an additional section of line pulling on the load.