How to choose this product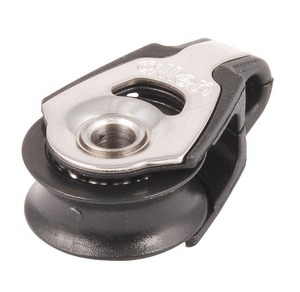 A block comprises a sheave, or wheel held between two cheeks and a fitting to attach the unit to a fixed point. Its use multiplies mechanical advantage and reduces wear on the lines that run through it.
Applications
Blocks are used to make up block and tackle to increase purchase, as well as for halyard, sheet and other leads. Thus, they are typically found on sailboats, but may be used on any type of boat or ship, even if only for hoisting a flag or for davit operation.
Technologies
Block sheaves can be single, double, triple or even more. Most are of aluminum, stainless steel or titanium, though wood is often used on traditional sailboats. Cable blocks usually have a metal sheave. In friction blocks, the sheave is in direct contact with the axle, while other types have ball bearings or rollers.

Ratchet blocks have internal springs and a toothed mechanism to keep tension on the line between two pulls. They are most common in dinghy sailing. Block anchoring is via a shackle, a swivel or snap shackle, a fork or another system, which will depend on the rotational or torsional freedom of movement required.
How to choose
Roller models are probably the most efficient, combining the friction reduction of ball bearings and the superior sturdiness of the roller. Each block's rated operational and breaking load must be respected, as well as the maximum line diameter it can handle.