How to choose this product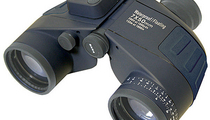 Binoculars make distant objects appear larger and closer. Those with a built-in compass also indicate the bearing of the viewed object.
Applications
Binoculars are extremely useful aboard a vessel for examining an adjacent shoreline, other boats and sea- or landmarks. A built-in compass enables the user to determine the bearing of landmarks, even at a great distance.
Technologies
These instruments use a combination of lenses, mirrors and prisms to enlarge objects in the field of view. Proper focus is achieved by turning a knob. A compass graduated in degrees indicates the magnetic bearing from the boat to any object. Several such bearings allow determination of the vessel's position.

Most marine models are waterproof. Some include an internal compass light or infrared capability for night use. Binocular characteristics are indicated by two numbers. The first is the magnification. The second is the diameter of the objective lenses, which determines image brightness and clarity. For example, 8x50 binoculars magnify eight times and have an objective lens 50 millimeters across. Some models also indicate field of view.
How to choose
A model with an illuminated compass is more expensive, but can be used at night. The watertight rating should be at least IP6 to ensure protection against spray.