How to choose this product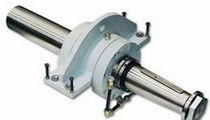 A boat bearing is a fitting which supports, aligns and, in some cases, lubricates a rotating shaft. On NauticExpo these fittings are designed for use on leisure craft.
Applications
Bearings have two primary uses aboard recreational vessels. They support the propeller shaft, either held by exterior support brackets or mounted within the hull, if the shaft is particularly long. They also support and align the rudder tube.
Technologies
Propeller shaft bearings are usually made of water-resistant polymers and hydrocarbon compounds. The material must be sufficiently dense to ensure durability, but flexible enough to absorb the vibrations of the rotating shaft. Rudder tube bearings are metal tubes lubricated by seawater or grease. They are sometimes mounted on ball bearings. Various diameters are available.
How to choose
Choice will depend on precise use, tube diameter and mounting mode (e.g., exterior support bracket). Installing metal bearings on an aluminum hull requires measures to prevent electroysis.