Barographs
How to choose this product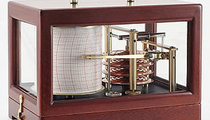 A barograph is a recording aneroid barometer, an instrument which measures atmospheric pressure over a fixed period and records its fluctuations on a moving sheet of graduated paper or an LCD screen.
Applications
These devices are useful for tracking weather variations, especially disturbances. This information is particularly important to offshore recreational boaters and commercial vessels.
Technologies
Mechanical, analog barographs use a pen on a moving arm to trace pressure changes over time on a sheet of graduated paper mounted on a drum. The pen moves up and down as a function of pressure as the drum rotates at a fixed rate. This produces an easily-read pressure curve. Digital models display the curve on an LCD screen.
How to choose
Analog barographs consume paper, but offer aesthetic advantages. They are often mounted in an attractive case made of fine wood and brass with glass windows.
Advantages
- Graphs real-time pressure changes
Disadvantages
- Bulkier than a barometer
9
companies |
35
products (boat or nautical equipment)
Analog
Cassens & Plath
8 diaphragms. Model wilh pointer damping resistant against vibrations and shock. Measuring range 955 ... 1060 hPa. Quartz movement. Metal parts...
Analog
410-C

Weems & Plath
A wonderful way to keep records of barometric pressure readings is with the German- made Classic Barograph...
Analog
410-D

Weems & Plath
A superb way to keep precise records of barometric pressure readings is with the elegant German-made Dampened Deluxe Quartz Barograph which uses eight diaphragm bellows...
Digital
METEOMAN

Nasa Marine
For a yachtsman planning a voyage, the ability to predict the weather is essential. The rate of change of barometric pressure and history of wind speed can be an invaluable indicator of imminent conditions. Many...
Extend the search
Search by manufacturer
Search by catalog
Associated Terms
marine barographs, nautical barographs