How to choose this product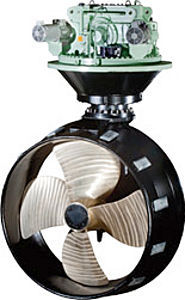 An azimuth thruster is a special type of propulsion system capable of pivoting through 360° around a vertical shaft. This gives the vessel great maneuverability by its ability to direct thrust in any direction. The two possible configurations are Z-drive and L-drive.
Applications
Such thrusters are common on vessels operating in tight quarters requiring great maneuverability or precise positioning. This includes tugboats, icebreakers and cable-laying ships.
Technologies
These devices have two main elements. The submerged part contains the propeller and its shaft. The directional mechanism is housed within the hull and connects the thruster pod to the ship. With Z-drive, the rotary motion must make two right-angle turns. L-drive requires a single right-angle turn. Other options include a Kort nozzle and counter-rotating propellers.
How to choose
It is important to choose the most appropriate configuration for the ship in question, including the power source, mechanical or electrical.
Advantages
- Great maneuverability
- Good performance