How to choose this product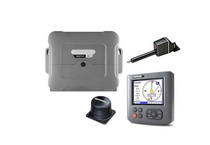 An autopilot is a piece of electronic equipment which keeps the vessel on course without continuous human intervention. Some models offer a variety of other capabilities.
Applications
These devices are particularly useful for single- or shorthanded sailing. They also prove valuable on long passages, where the same course may be held for hours or days on end. Certain models linked to a control center can manage more complex navigational tasks such as passing by preset waypoints or taking wind changes into account when steering a sailboat.
Technologies
Autopilots usually comprise a control panel, electronic circuitry to manage various functions, a power unit (electro-hydraulic pump and cylinder) and sensors (rudder angle, gyrocompass). Some models, such as those for small sailboats with tiller steering, incorporate all these elements in a single unit. Others require a more complex assembly of different components. Control may be by portable remote, joystick or another system.
How to choose
Choice will depend on vessel type (sail or power), size and displacement. Steering system, whether tiller, wheel, rudder, quadrant, electronic or a different mechanism, is another factor. Matching the autopilot to preexisting electronic controls can provide additional functions or other advantages.