How to choose this product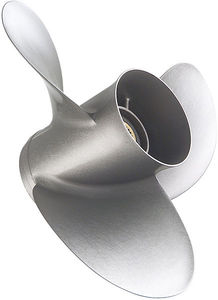 An aluminum propeller is often used on outboard motors. Marine propellers also can be made of nickel-aluminum-bronze alloys. The blades rotate around the propeller shaft in the same plane, producing thrust to drive the vessel forward.
Applications
Such propellers are frequently mounted on motors powering recreational craft of modest displacement, especially outboards. They are relatively inexpensive and easy to repair.
Technologies
These propellers function as do those made of other materials, differing only in characteristics particular to aluminum.