Aluminum open boats
28 companies | 161 products
How to choose this product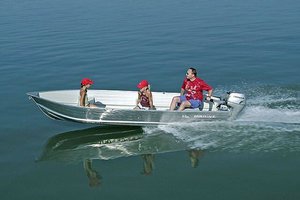 An aluminum open boat is a small motor vessel without a deck. Aluminum is known for its good strength-to-weight ratio.
Applications
Such craft, generally of modest dimensions, can be used for a wide range of activities. Their shallow draft makes them ideal for fishing in shoal waters. They are also suitable for touring, wildlife photography and even water sports like scuba diving and water skiing. These boats are also used by surveillance and rescue teams, especially on canals, rivers and other inland waterways.
Technologies
An aluminum hull is extremely sturdy. The great majority have outboard motors whose throttle handle is used for steering. Only a few have piloting consoles. Some have bench seats for passengers and lockers for stowing fishing tackle or other gear. These craft are a favorite of professionals because of their sturdiness and simplicity.
How to choose
If your aim is to navigate in very shallow waters, the craft's minimal draft is a significant factor. In addition, its light weight makes it easy to trailer. Intended number of passengers, motor size, range and multipurpose flexibility should also be considered.
Advantages
- Strength/weight ratio
- Simple, uncluttered layout
- Usually transportable
Disadvantages
- Unsuitable for rough seas
- Can be unstable