Aluminium power catamarans
How to choose this product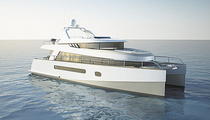 An aluminum power catamaran is a multihull craft built primarily of aluminum or aluminum alloys.
Applications
These vessels can be used on inland waterways or at sea. Recreational versions include yachts and super-yachts. Professional models are used to clean up oil spills, for surveillance and other tasks.
Technologies
Such boats have two identical hulls of aluminum or aluminum alloys. The twin-hull configuration results in shallower draft. Moreover, since aluminum is very light, wetted surface is reduced even more, resulting in less drag and lower fuel consumption.
How to choose
Aluminum and its alloys are favored over other metals because they resist corrosion in the marine environment.
Advantages
- Light
- Sturdy
- Resists corrosion
Disadvantages
- Expensive
10
companies |
20
products (boat or nautical equipment)
Filter by :
› New products

(0)

› Products with video

(1)
Extend the search
Search by manufacturer
Search by catalog