How to choose this product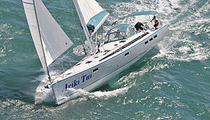 Aluminum's lightness and mechanical properties make it suitable for the construction of sturdy vessels.
Applications
Small aluminum craft are lighter than similar models made of composite materials. Many fishing skiffs are made of aluminum. Large aluminum vessels are sturdier than boats of the same weight made of composites. Professional and cruising vessels are often aluminum.
How to choose
These craft are often used by circumnavigators, as they are easier to repair in remote locations. Welding shops can be found everywhere, whereas composite technology, even the simplest fiberglass/polyester resin construction, is far less common.
Advantages
- Solidity; aluminum bends but rarely splits
- Easy to repair and to maintain
- Durable
Disadvantages
- Electrolysis with stainless steel gear
- Well-installed electrical system essential