How to choose this product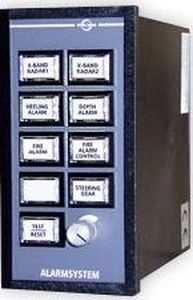 Alarm systems for ships are electronic safety devices emitting a visual or audio signal when an anomaly is detected by their sensors: fire, water leak, smoke, excessive CO2 levels, trespassing, piracy, etc.
Applications
Such unis are for professional ships. IMO regulations often make them mandatory.
Technologies
Sensors installed at key points everywhere aboard the craft allow to maintain permanent surveillance: cargo, fire-hazards, smoke, CO2, etc. The slightest anomaly triggers the alarm signal. A message can be displayed on the console.

The alarm can consist in a powerful, strident sound signal. In situations where such a signal cannot be heard (e.g. engine room), the signal is visual -- (blinking) light.
How to choose
Ship type, nature of the cargo, navigation routes, and international regulations will determine your choice.