How to choose this product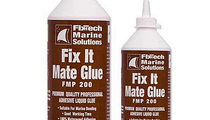 Adhesives are most often composed of chemical products. They are used to unite elements together.

Many types of adhesives exist. They have been organized on NauticExpo by active substance and by application: polyurethane adhesives, polyester adhesives, epoxy adhesives, metal adhesives...
Applications
Adhesives have many applications. They can repair broken or deteriorated objects, connect deck elements, be used for masting, etc.
Technologies
Adhesives are usually pastes, and have various densities. After application, the adhesive dries and joins the elements together.
How to choose
Determining elements include the nature and properties of the elements to be glued and their exposure to harsh weather conditions.