The Online Boating and Maritime Exhibition

IPS POD express cruiser
450
Length: 13.96 m
... ; with a 360° panoramic view, it is well ventilated, comfortable and functional, whether at sea or at anchor. The owner's cabin, with its private stairway, reserves an access independent of the public living spaces The ...
See the other products
Prestige Yachts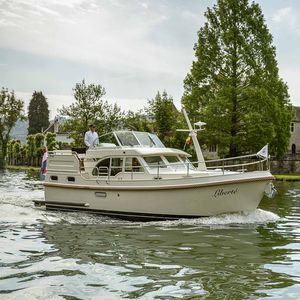 inboard express cruiser
Grand Sturdy 30.0
Length: 9.7 m
... models. 4+2 sleeping berths The AC version of the Grand Sturdy 30.0 has a fore and aft cabin with a double bed. Four people can sleep comfortably on board. The fore cabin ...
See the other products
Linssen Yachts B.V.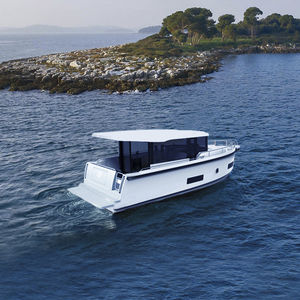 inboard express cruiser
34
Length: 10.8 m
... inch of interior has been carefully thought out to maximize the usability and comfort for you and your guests. Each of the cabins are light, airy and naturally ventilated with lots of glazing and opening windows. A ...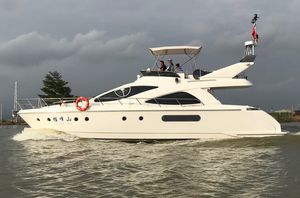 inboard express cruiser
Artemis 48
Length: 14.8 m
... line of motor yachts features an open interior layout with two staterooms: a forward queen sized berth and a mid-ship double berth cabin. Both of the staterooms have their own access to ample heads each ...
See the other products
Selene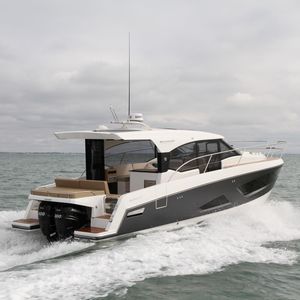 outboard express cruiser
MONACO 110
Length: 11.2 m
... The interior offers an equivalent layout to any classic inboard boat and arguably better in many respects. It has 2 good cabins and a bathroom with separate full size shower. On the main deck a large ...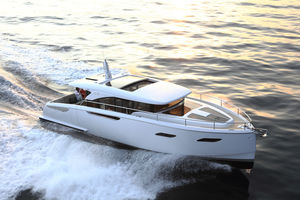 inboard express cruiser
BEACH 45
Length: 13.55 m
The Beach series from Jetten Jachtbouw is of an unprecedented class and is constructed in aluminium. The beautiful design of Cor D. Rover in combination with the technical innovations create an entirely new class. The patented Fast Displacement ...
See the other products
Jetten Jachtbouw

inboard express cruiser
365 COUPÉ
Length: 11.56 m
... along the entire starboard side. Maximum use is made of the interior volume, allowing the cockpit, saloon, lower deck and cabin to be larger than would otherwise be the case in a boat of this size. An important feature ...
See the other products
Nimbus

inboard express cruiser
1040
Length: 10.7 m
... , the generously sized aft cockpit, the bright saloon with dinette and built-in galley and the comfortable owner's cabin and guest cabin.
See the other products
Rodman

inboard express cruiser
Majestic 1150 AC
Length: 11.65 m
Technical Data Length over all 11,65 m Beam 4,00 m Motor Volvo D3 - 110 pk / 81 kW
See the other products
Aquanaut

inboard express cruiser
39 CAMIRA
Length: 12.27 m
... Hans Jørgen Johnsen hull design, the external concept by Dubois studio, and an interior by Design Unlimited. The standard two-cabin interior layout offers a choice of galley arrangements, and the cockpit can be specified ...
See the other products
Windy

inboard express cruiser
1300 SEDAN
Length: 13.3 m
Lengte over all:ca. 13.30 m Beam:ca. 4.55 m Draft:ca. 1.20 m Creep height:ca. 3.10 m Engine:from 150 HP till 2 x IPS 600 CE-classifictation:B Top speed:ca. 10 kn (the semi displacement version ca. 22 kn) Cruising speed:ca. ...
See the other products
Jachtwerf De Boarnstream

inboard express cruiser
M49 BEN NEVIS
Length: 14.8 m
Following the successful launch of our first motor yacht, the 48ft Far Niente in 1997, we had a request for another yacht of similar size and concept. Motor yacht number two was based on the same hull design, but extended by one foot. Raymond ...

inboard express cruiser
310 HTC
Length: 9.6, 10.4 m
Galeon 310 HTC was designed to present a more aggressive profile and features than the leisure oriented flybridge variant. Both yachts share the same interior layout with a notable difference being the presence of an automatic glass roof ...

IPS POD express cruiser
Z44
Length: 13.52 m
... curves, including the aft wall, trimming and panels, all of which requires some 42 different moulds. Each window in the hull is double curved, To follow the curved line of the Hull and the same applies to the stainless ...

inboard express cruiser
XO 360
Length: 11.2 m
... m Height above waterline: 3,7 m Weight (incl. engines): 6590 kg Draft: 1,2 m Power: 600 – 740 hp Fuel tank: 1 x 750 litres Top speed: 40+ knots Max. load: 10 persons Berths: 2 + 2 Deadrise ...

inboard express cruiser
E34 FLY
Length: 10.26 m
Are you a homebody? Then look forward to the new BAVARIA E34. It's like a floating home, a villa on waves. Why? Because it offers loads of living space and maximum comfort. Rather like your own four walls. For lakes and the sea – whatever ...
See the other products
Bavaria Motorboats

IPS POD express cruiser
Sagitta 45'
Length: 13.96 m
The Sagitta 45' is the new sport cruiser by Camper & Nicholsons Yachts, designed for those who enjoy the sea for both sport and leisure. Uncompromised in the trademark elegance and sophistication associated with C&N Yachts, ...
See the other products
Camper & Nicholsons Yachting

IPS POD express cruiser
36
Length: 9.94 m
"Attractive, easy to pilot and agile, the Austin Parker 36 delivers all the pleasure of comfortable sailing even in the pleasure craft category. On board, it offers comfortable accommodation and lots of space for its size thanks to ...

inboard express cruiser
40 GT
Length: 12.25 m
... Salpa has worked by giving life to the Salpa 40 GT. Salpa has conceived a new and exclusive project philosophy: Sport Family Cruiser. This philosophy has inspired the Salpa 40 GT that inaugurates a new way of living in ...
See the other products
Nautica Salpa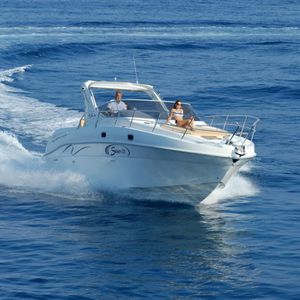 inboard express cruiser
330
Length: 10.2 m
... of engines, petrol and diesel engines, with power ranging from 450 to 520 horsepower. The interiors include a guest cabin with double bed and sofa, separate toilet, a kitchenette with Corian worktop, ...

inboard express cruiser
45 FLY
Length: 14.13 m
... consider the full beam cabin in the amidships, with private toilet and separate shower, the walk-in closet and a double cabin in the bow, with private bath, separate shower and two closets ...
See the other products
Absolute North America

inboard express cruiser
EVO 43
Length: 13.04 m
The design of the Evo 43 is sleek and minimalist with cleats, anchor, fenderhooks which fold away in the deck to leave the lines completely clean. The hydraulically operated anchor locker features a lifting nose which prevents the anchor ...

inboard express cruiser
2965
Length: 10.3 m
... Draft0.49 m Approximate Weight3900 Kg Fuel Capacity2 x 280 L Water Capacity135 L Waste tank Capacity53 L Certification Persons10 Design CategoryB Engine TypeSingle/Twin SD Maximum Power2 x 225 ...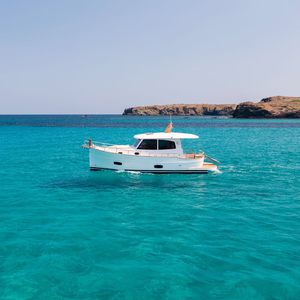 inboard express cruiser
MENORQUÍN 34
Length: 10 m
Menorquín 34 HT Manoeuvrability and superior use of living space, thanks to the optimized design of its hull, has garnered international praise for the Menorquín 34 HT. The result of it is the nomination for the 2016 European Powerboat ...
See the other products
Sasga Yacht

hydro-jet express cruiser
RHIB 4100
Length: 12.54 m
The Ultimate divers getaway. Offering a versatile platform, dedicated divers entry platform, plenty of deck room and a versatile interior layout. The Herley 4100 RHIB can meet the demands of any adventure. Fitted with 600mm OD Hypalon ...